Fired Up is an arena game in which the players are the audience and not the fighters.
Use your influence dice to cheer or jeer the fighters, encourage them to run faster, fight better or even make them change their targets, so that you can see some amazing Highlights, and leave the stadium Fired Up!
Be careful though, since the other players may have totally different agendas so you need to make sure to adapt your energy to the right fighter at the right time.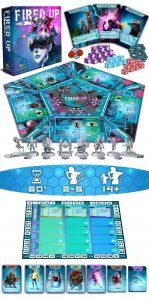 Gameplay
In the preparation phase, each player draws 4 Highlight cards and chooses the 2 they will try to score this round.
In the influence phase, each player will roll their influence dice and use them to influence the different fighters
After everyone has used all their dice, the fight begins!
In the battle phase, the fighters attack each other.
Players score points according to how many of their highlights were executed.
Meet the Fighters!

Contents:
8 Fighter Miniatures
8 Fighter Mats
1 Big Arena Board
1 Betting Board
3 Bet Cards
60 Highlights Cards
8 Attack Dice
7 Defence Dice
25 Influence Dice
10 Wooden Bleed Tokens
5 Wooden Vp Tokens
10 Yellow Glass Beads
1 Purple Glass Bead
10 Red Glass Beads
5 Blue Glass Beads
5 Cardboard Speed Tokens
10 Cardboard Fired Up Tokens
40 Bidding Cards
1 Gametrayz Insert
Fired UP is  for ages 14 and up. It can be played with 2-5 players and a game will last for about 60 minutes.